Environmental Consulting from a Company That Does it All
GSI Engineering is a full-service engineering firm committed to a broad spectrum of environmental services through sustainable, innovative, and cost-effective solutions. Our dynamic team of professional and technically trained staff have the expertise to help your organization navigate complex physical and regulatory scenarios. GSI delivers accelerated and practical outcomes at the pace of today's demanding business world.

Through decades of experience with private industry and government programs alike, GSI Engineering is a trusted partner for any business or organization tasked with environmental compliance, property due diligence, risk assessment or environmental remediation. We routinely support industry leaders, commercial property owners, developers, banks, and specialized government programs to provide effective solutions the first time through the mitigation process.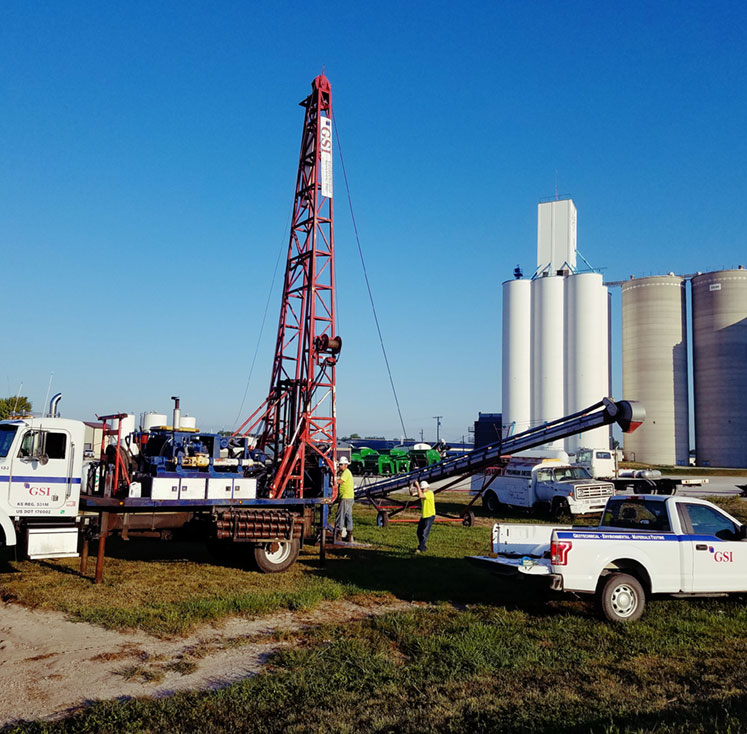 Developing Strategies That Serve Your Business and the Environment
---
Our objective for each client is to develop a proactive strategy that meets the needs of both your business and environmental regulation. Our local experience and multiple field offices allow GSI to diagnose and respond to complex environmental conditions at an accelerated pace, while keeping your costs lower than the national competition. Most importantly, GSI managers and project staff maintain unmatched working relationships with regional EPA and state regulatory programs and will work as your advocate to apply this resource to your advantage.
Let GSI Engineering serve as your keystone partner in environmental consulting. We offer professional teams and a fully-functioning Field Services Division supported by cutting-edge technology. Our Field Services include direct-push, rotary drilling, field analytical and digital logging, and geophysical equipment fully maintained by dedicated GSI staff. This multi-discipline resource is the only contact you need to address most any environmental concern.
Our Environmental Consulting Services Include:
Environmental Due Diligence & Property Assessments:
GSI maintains a dedicated Site Assessment Team that support all aspects of environmental due diligence and commercial real estate transactions. GSI routinely works with developers, banks, government lending programs, and both sides of the transaction line to accelerate turnaround and identify potential environmental implications early in the process. Our locally-based professionals navigate the due diligence process down to the state and local levels, which produces an invaluable level of detail unmatched by our competition. Do not take on unnecessary risks that may compromise your environmental liability. Make GSI your first call to bring experienced environmental professionals to your side.
GSI Phase I Environmental Site Assessments (ESAs) are completed in full compliance with ASTM E-1527-13 and the U.S. EPA All Appropriate Inquiries (AAI) Rule. We maintain a highly competitive Phase I Service Line that does not cut corners or deflect added responsibilities to our clients. We are the only resource you need to efficiently complete this industry practice. Further, our internal capabilities span various supporting and add-scope components of environmental due diligence including Phase II sampling and compliant asbestos, lead-based paint and mold surveys.
Brownfields Redevelopment
GSI has completed hundreds of environmental restoration projects through established and often creative public-private sector relationships. Our impressive portfolio of Brownfields Assessment and Brownfields Cleanup experience spans all levels of government – including EPA Region 7, State of Kansas, the City of Wichita and other municipalities. Remarkably, GSI has served for nearly two decades as a Brownfields Consultant under the Kansas Brownfields Program supporting environmental site assessments, commercial building surveys and cleanup planning following established EPA procedures.
GSI routinely offers technical assistance to municipalities and local development authorities to promote brownfield revitalization at the grassroots level. Do not hesitate to invite GSI to your community to explore Brownfields grant writing and other government funding opportunities to support your project.
Environmental Remediation Services
Our Environmental Remediation Service Line takes our capabilities to the next level. With a dedicated network of licensed engineers, scientists, geologists and certified environmental technicians, we support all aspects of the remediation process – from conceptual planning and design to certified engineering specifications and field implementation. We seek to balance proven soil and groundwater applications with innovative designs to establish sustainable and cost-effective solutions. GSI design professionals seamlessly merge published case study and success with innovative, site-specific designs centered on current and prospective land use.
All GSI designs begin with a detailed analysis of client goals, known site conditions, regulatory objectives and budget. We will strongly advocate for our client with the regulatory entity to establish reasonable performance standards under regulatory oversight when necessary.
Our remediation experience predates most state-lead Voluntary Cleanup and Storage Tank Trust Fund programs, and even federal Superfund legislation for several established technologies. This experience covers even the most complicated physical conditions and stubborn environmental contaminants including chlorinated solvents, heavy metals, pesticides, and nitrogen-based contaminants. Specifically, GSI case study experience includes, but is not limited to:
Large-diameter boring extraction
Air sparge, horizontal sparging & soil vapor extraction (SVE)
Custom blend in-situ chemical & bioremediation
In-situ soil stabilization / chemical neutralization
Phytoremediation & controlled cover
Risk-based engineering & design controls
Soil removal, consolidation & capping
Indoor vapor mitigation
System Operations, Maintenance & Performance Monitoring
Effective design can be easily lost without the necessary implementation, maintenance and technical adjustments over time. Unlike expensive national design firms, we maximize client investment through educated and practical supplements based on defined performance monitoring criteria. This process is also critical for chemical and mechanical longevity and energy efficiency over what can be years of operation. Through experience in the field, we have found our approach to maximize performance often results in as many as 10 years off the operating timeline, regulatory closure, and extended operations costs.
GSI offers a universal solution to service all phases of your system operations. We routinely service the following to maximize your investment and remarkably simplify your responsibilities as a facility or system manager:
Routine maintenance, parts replacement & troubleshooting
Scheduled system, soil gas & effluent monitoring
Low-Flow & passive diffusion groundwater monitoring
Design supplements and/or modifications based on performance monitoring
Development of operations & maintenance specifications
Scheduled technical reporting and performance modeling
Solid Waste
GSI's project managers have provided oversight on numerous landfill projects across the Midwest and provide full-service investigations, monitoring and geotechnical engineering services. GSI can assist with preparation of Operation Plans and Construction Quality Assurance (CQA) Plans for C&D landfills and oversight of the construction monitoring process. Our experienced staff have designed and installed methane gas extraction wells, installation, repair, maintenance and monitoring of groundwater wells, quality control testing of leachate ponds, borrow source investigations, and post-closure monitoring programs. GSI understands the limited resources available to most landfill operators and can provide cost-effective solutions.
Oil and Gas
The Oil and Gas industry is faced with a myriad of state and federal regulations and compliance issues. Our combination of oil and gas expertise and practical hands-on experience results in cost-effective solutions tailored to meet our clients' objectives. We have successfully completed hundreds of projects both on and off-lease including all types of oil field materials, ranging from crude oil to produced water.
There are many ways to remediate oil field contamination. GSI believes that the correct approach is based upon a number of factors, such as the type and amount of contamination, site conditions, and potential impact to receptors. We understand scheduling and timing is important to minimize disruption to on-site operations.
Some of the services that we provide vital to the Oil & Gas industry are:
SPCC plans
SWPPP
Regulatory and compliance services
Environmental site assessments for lease sales transactions
Storage facility monitoring
Spill cleanup
Methane monitoring
Expert witness services for court proceedings
Regulatory site assessments for drill site, lease road, tank battery and pipeline locations
USACE permitting for wetland crossing
Threatened and endangered species surveys
Natural Resources
Evaluation and protection of natural resources is frequently an important part of project planning and site development. Unanticipated project impact adversely affecting surface waters, plant and wildlife habitat, threatened and endangered species and human quality of life issues can result in costly project delays and, in some cases, expensive fines or penalties.
GSI's Environmental Professionals can assist in identifying these issues, conduct surveys to evaluate the extent of impact and assist with permitting and compliance as needed to keep your project moving forward.
NEPA Consulting / Evaluations
The National Environmental Policy Act (NEPA) requires federal agencies to use an interdisciplinary approach in planning and decision-making for proposed actions that impact the environment. Trying to figure out how to comply with NEPA regulations can be a daunting task, but GSI's professionals have extensive experience with NEPA and regulatory hurdles to help you decide what actions to take and when.
GSI will help prepare NEPA evaluations for federally funded projects with Federal Highways, Housing and Urban Development, Federal Transit Authority, Federal Aviation Administration and the Federal Communications Commission, or assist you with meeting federal guidelines for private projects.
Wetlands
GSI maintains a staff of qualified biologists, soil scientists, geologists and engineers trained in the U.S. Army Corps of Engineers (COE) identification and permitting processes. Our comprehensive approach to early identification of jurisdictional waters includes the preliminary identification of wetlands and other aquatic sites, preparation of delineation maps, determination of permit applicability, the identification of potential impacts and recommendations on how to avoid or minimize potential impacts.
If permitting is required, GSI's environmental regulatory experts can help you prepare permit applications and mitigation plans. We have worked closely with State and Federal agencies on many permit applications and mitigation plans so we know exactly what measures to take and when.
Threatened and Endangered Species
Federal and State policy and regulations protect plant and animal species identified as threatened and/or endangered (T&E). Protection of critical habitat necessary for supporting successful propagation and survival of T&E species is often a part of species management and recovery plans.
GSI environmental professionals provide assistance with early identification of potential impact to Threatened and Endangered species, conduct surveys to evaluate the extent of impact, and assist with permitting and mitigation as required to address identified issues associated with your project.
Unmanned Aerial Systems (UAS) Mapping, Inspections, and Environmental Monitoring
GSI professionals, including FAA Part 107 Certified pilots, provide mapping and aerial inspection data with high quality orthomosaic photos. A safe, quick, and reliable method to complete inspections. Drone mapping application provides an efficient survey tool even across challenging terrain and bodies of water. Monitoring of environmental concerns, including erosion, sediment records, and vegetation from the air provide a valuable asset. Useful for environmental planning, this data can minimize need for inspections to show compliance.